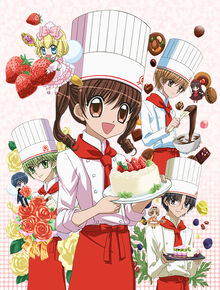 Welcome to Yumeiro Patissiere Wiki
The story centers on a 14-year-old girl named Ichigo Amano who wants to be a pâtissière (a pastry chef), but is extremely clumsy. One day, she goes to a sweets convention and ends up meeting Henri Lucas (a world famous pâtissière) who recommends her to St. Marie Academy. She enrolls in St. Marie Academy, a culinary school for sweets. She gets off to a rough start when one of the Sweets Princes called Makoto Kashino yells at her, but when she meets her sweets spirit, Vanilla, she begins to learn the ups and downs of being a pâtissière. The series continues with Ichigo returning from Paris and creating a new Team Ichigo with Lemon, Johnny, and Makoto
Wiki Rules
Do not add personal voice or opinions; Only facts from either the anime or manga.
All grammar related edits are to be marked as minor edits.
Any plot related details are to be separated based upon whether it is from the anime or manga.
Spoiler warning!
This article contains plot details about an upcoming episode.
Anime
Yumeiro Patissiere (夢色パティシエール Yume-iro Patishieeru) is a loosely based adaption of the manga, animated by Studio Pierrot & Studio Hibari (スタジオ雲雀).
Content Rating: E10+ - Everyone ten and up
Yumeiro Pâtissière: Fourteen-year-old Ichigo Amano is clumsy and doesn't have any talent except for eating sweets (specifically cakes). When she stumbles upon a Sweets Festival, she meets Henri-sensei who acknowledges her ability of taste and invites her to transfer to St. Marie Academy to become a pâtissière. Ichigo has trouble adjusting initially, but with the help of the 3 Sweets Princes (Makoto Kashino, Satsuki Hanabusa, and Sennosuke Andou) and the Sweets Spirits (Vanilla, Chocolate, Caramel, and Cafe), she gains the confidence and skill to work towards becoming a pâtissière. (Release Date: 2009/10/04)[1]
Yumeiro Pâtissière Professional: Two years after studying in Paris, the sixteen-year-old Ichigo now returns to Japan as a professional pâtissière. As soon as she returns, Ichigo finds Team Ichigo breaking up. The Sweets Princes, Hanabusa and Andou, have take long absences from school to work for their dreams, leaving only Ichigo and Kashino. Kashino skipped a grade due to having top grades back at Paris. Soon a "new" Team Ichigo is formed by Henri-sensei for the project. The team includes Lemon Yamagishi, Johnny McBeal, Makoto Kashino , and Amano Ichigo. They are now working as professionals for the project and their dreams.
Manga
Amano Ichigo is a 14-year-old cake lover. After meeting a lecturer, Henrie Lucas, at a cake buffet, she enters St. Marie Academy - a school that raises and cultivates patissiers. Not only is she placed in the elitist group with three princes of sweets, but she also meets sweets spirit Vanilla on her first day of transfer. Ichigo is air-headed, a total klutz, and a complete novice at cake making, but she's trying her best mastering one at a time in order to make her customers happy.
(Release Date: 2008/09/03)[2]
NOTE: (The main plot within the manga differs greatly in comparison to its anime counterpart)
References
Community content is available under
CC-BY-SA
unless otherwise noted.